Portfolio
Visit R. Campos Masonry's Photo Gallery
We currently have several photos in our R. Campos Masonry Photo Gallery from residential and commercial projects that we have done, but we will be continually adding more images of our latest work.
Stone & Brick
The banner image above is a Boulder home where we combined stone and brick to create a distinctive contrast, yet it blends well together.  The stone pillars and iron fencing  in front add to a very rich and luxurious effect.
Stucco & Stone – a Contemporary Look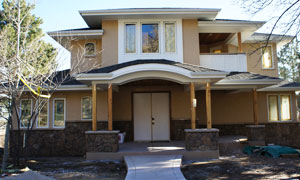 The image at left is a Boulder home where we applied stone skirting below exterior stucco walls, resulting in a very modern look.
Wanting to update the appearance of your home? The home at left is a newly constructed home, but stone and stucco can also be applied over existing exterior construction materials such as dated brick or aged siding, to create a more contemporary look.
Stucco Elegance with Durability
The image below is an example of an executive stucco home that we did in the hills above Boulder.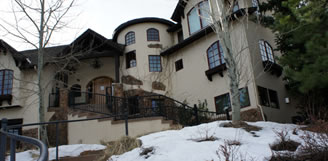 The smooth contouring of stucco offers an elegant appearance and allows for the home owner to express their own personality in the design.
When applied correctly, stucco has excellent longevity with low maintenance.
Stucco can also be applied with varying textures and styles. Ask R. Campos Masonry about available options.
Flagstone – A Native to Colorado
Below is a luxurious flagstone home overlooking Boulder that we recently completed. Flagstone is native to the Colorado landscape, and blends well in a mountain setting as seen here.
Flagstone is not only durable, but a green alternative to manufactured siding products. Flagstone is available in white, red, and various other shades of earth tone.